Pi, in progress — Lise Beaudry
Inaugural exhibition and official reveal of the permanent installation at Place des Arts
In the exhibition Pi, in progress, I share the research and reflections that led to the creation of Pi (2020-2022), a permanent artwork installed in the center of the foyer of Place des Arts. This research made me discover the story of so many people who shaped Place des Arts, as well as a great sense of belonging.
Opening Saturday, April 30 at 5 pm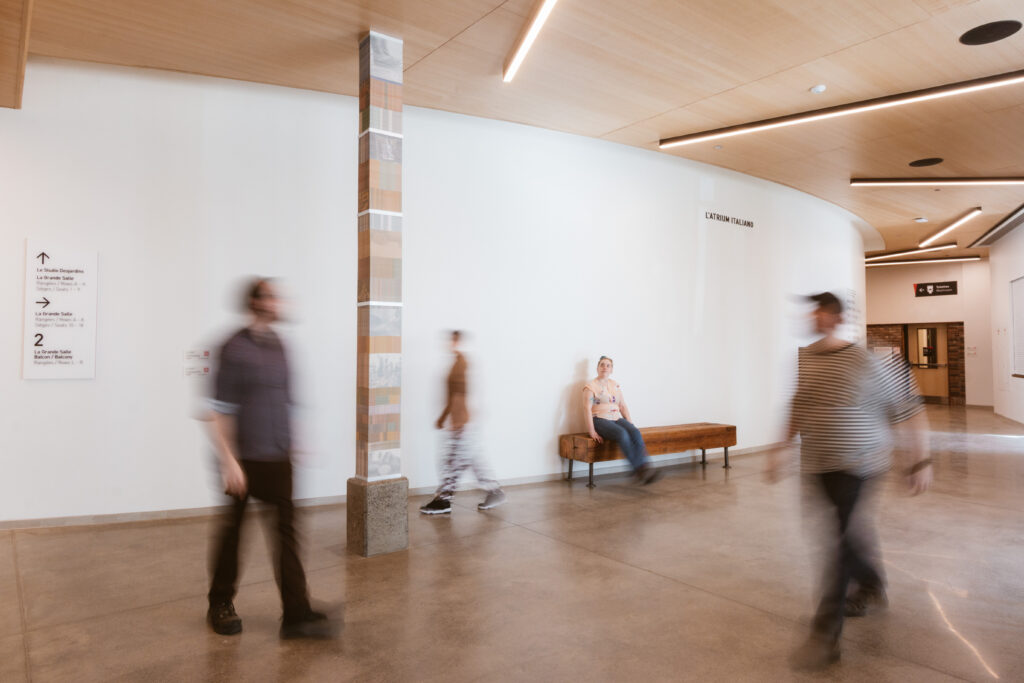 Pi is an installation made up of 15,000 stacked photos that reaches the height of 3.14 meters. The number 314 corresponds to the total number of active years of the seven founding members of Place des Arts du Grand Sudbury in 2020, the year in which construction of the building began and the creation of the art installation started. For mathematicians, 3.14 is also pi, a fascinating constant. Pi is a transcendent, irrational, infinite value. For me, these qualities are also those of Place des Arts.
The 13,000 photos reproduced in this installation come from the archives of the seven founding organizations. I searched extensively through more than 50,000 photos to choose images that show daily life and the behind-the-scenes of their creative work over many years. I also found myself in the archives, through images of Earlton, my hometown, and many familiar places and faces. Inspired by the movement of the Nouvel-Ontario that took place in the background of my childhood, I let myself be guided by the poetry of archived images.
My research process was largely the act of scrutinizing these thousands of photos over and over again. I made several selections; some of them have lived on the walls of my studio and are now found in the exhibition.
The video installation Shine Bright/Behind the Scenes (2021-2022) compiles the many finds made in the founding members' archives. I chose to reconfigure these archives not according to temporal logic, but rather according to a recurrence of motifs, themes or gestures. I inject repetitions into these sequences that are integral to my creative process. Echoing the permanent work in the foyer of Place des Arts, the video reveals the creative impetus that underlies an artistic community in the making.
— Lise Beaudry