Place des Arts launches its first capital fundraising campaign
March 5, 2018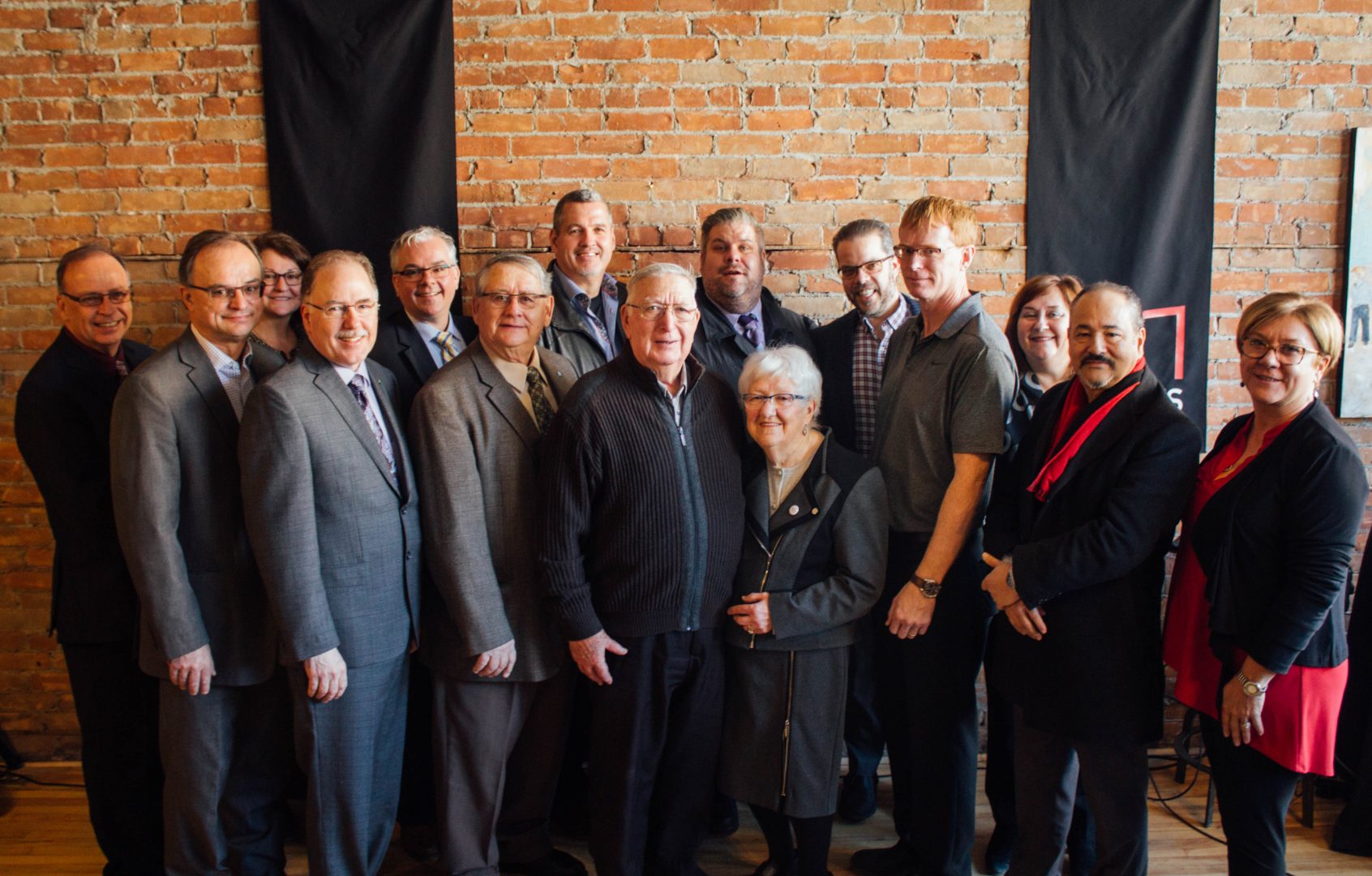 The Place des Arts du Grand Sudbury officially launched its first capital fundraising campaign, Share Our Sense of Place, this morning. The campaign's goal is to support the $30 million project to build the Place des Arts in downtown Sudbury by 2020.
Well-known Greater Sudbury personalities and philanthropy experts Daniel Gingras and Stéphan C. Plante have agreed to co-chair the Share Our Sense of Place campaign. "It was perfectly logical for me to join in the Place des Arts project, a unifying project that I've believed in since its inception and which is bringing our community together in an extraordinary way," said Stéphan Plante.
Daniel Gingras, who has been working in philanthropy for 20 years, was equally enthusiastic. "Place des Arts is a well-founded project; the business case made for it was solid. I wanted to join the campaign because the project is sound and has an outstanding, experienced team," he explained.
Place des Arts will provide Greater Sudbury with Northern Ontario's first multidisciplinary arts and culture centre. To be located on the block formed by Elgin Street, Larch Street and Medina Lane, Place des Arts will provide a permanent home for eight cultural organizations and house several arts and culture production and presentation facilities, including a contemporary art gallery, a youth studio, an early childhood artistic centre, studios and workshops. It is expected to host 850 events in its first year and generate 50,000 admissions.
In addition to the co-chairs, the cabinet of the Place des Arts capital fundraising campaign is composed of six honorary patrons and 12 influential members of the community from various segments of the region's economy.
"We're very grateful to them for agreeing to take on the challenge with us," said Stéphane Gauthier, Chair of the Board of Place des Arts. "Our goal of raising $30 million is ambitious, but we have an excellent team. Together, and with the support we've received so far from all three levels of government, we're confident we will succeed."
A number of private donors and organizations have already confirmed their support by contributing to the capital fundraising campaign for the Place des Arts project, and the campaign has collected its first $250,000. "This quarter million is very encouraging! It kick-starts the campaign, and it is an invitation to share our sense of PLACE," Mr. Gauthier concluded.
The Place des Arts project
Sod turning is scheduled for the summer of 2018. Place des Arts will open to visitors and audiences in the fall of 2020. For information on the project's development and progress updates, visit maplacedesarts.ca.
About the campaign's cabinet
Honorary patrons
The Hon. Marie-P. Charette-Poulin
Léo W. Gérard, International President, United Steelworkers
Donald Obonsawin, President of DIRECTIONS, a management consulting firm
Bernard Aimé Poulin, painter, sculptor, portraitist, muralist and author
Bob Rae, senior partner, Olthuis Kleer Townshend LLP
Brigitte Haentjens, director, Artistic Director – NAC French Theatre, Artistic Director and Executive Director, Sibyllines
Cabinet
Stéphan C. Plante, Co-Chair, Director – Retail Banking, Caisse populaire Voyageurs
Daniel Gingras, Co-Chair and Chair of Major Donations, partner in Noble Estates Wines and Spirits
France Bélanger-Houle, retired administrator and manager of employability services
Robert Blais, CPA, CA, partner, Collins Barrow SNT LLP
Ginette Bonin, retired young offender rehabilitation counsellor
Jo-Anne Boucher, owner of BESTECH and retired engineer
Christian Bruneau, Director, Nickel Rim South Mine, Sudbury Integrated Nickel Operations, Glencore
Marie Desmarais-Santi, retired government policy and program planner
Nicole Everest, retired vice-president, Corporate Operations, Zurich Financial Services
Guy Jolicoeur, Executive Vice-President, PBL Insurance Ltd.
Me Claude F. Lacroix, H.B.A. LL.B, LACROIX Lawyers / Avocats
Martin Lajeunesse, Treasurer, Place des Arts; co-executive director, Théâtre du Nouvel-Ontario
Diane Leblanc, president, Place des Arts membership campaign
Paul Marleau, retired entrepreneur
Jean-Marc Spencer, Executive Director, Desjardins Voyageurs Credit Union

About the donors
The family of Laurette and Arnel Michel made a generous donation to Place des Arts as a legacy for their children and grandchildren, for young people and for subsequent generations. Support for artistic, cultural and creative projects for future generations is an important feature of the vision of this family of local Francophone business owners.
The donation by the Pascal Sabourin family honours the memory of Monique Landry-Sabourin, who worked in education and health for more than 40 years, including as a music teacher. She played a pivotal role on the boards of directors of the Carrefour francophone and St. Joseph's Health Centre, where she oversaw such projects as the establishment of St. Gabriel Villa in Chelmsford.
BESTECH contributes to the success and well-being of its community. For BESTECH's Francophone owners, Place des Arts achieves this goal by providing a sharing place for cultural organizations, educating our youth and enriching the lives of residents through exposure to the arts. Their donation enhances and supports this project, which is so vital to Francophone culture.
Collins Barrow cares deeply about the community of Sudbury and actively supports many local activities by contributing to charitable organizations and major fundraising campaigns such as the Place des Arts initiative. In so doing, the firm promotes economic development and supports the community.
The Caisse populaire Alliance is contributing to the development of Place des Arts because it is a unifying project for the entire city of Greater Sudbury and the surrounding communities. Alban and Noëlville are particularly drawn to this project because it is so promising for the community as a whole.
Place des Arts is also counting on the commitment and support of funding providers such as Canadian Heritage, FedNor, the Northern Ontario Heritage Fund Corporation, the Ministry of Tourism, Culture and Sport, and the City of Greater Sudbury.