Vale donates $100,000 to Place des Arts
November 12, 2018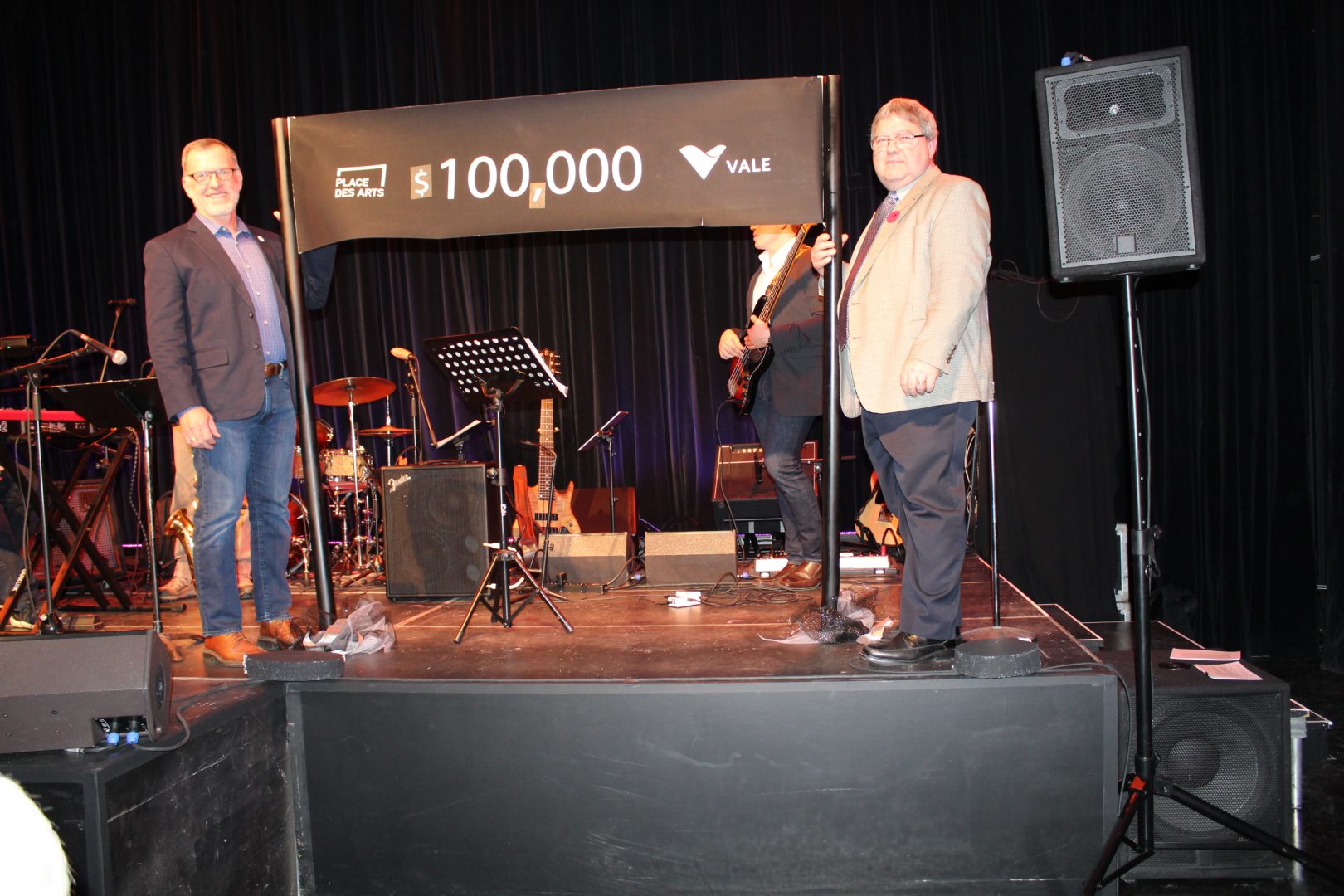 In its capital fundraising campaign, Share Our Sense of Place, Place des Arts has received a generous donation of $100,000 from Vale. The company made the announcement at the Théâtre du Nouvel-Ontario's annual benefit concert on Friday, November 9, 2018.
"Vale is proud to support Place des Arts and the future role it will play as a cultural hub in the City of Greater Sudbury and Northern Ontario," said Ricus Grimbeek, Chief Operating Officer for Vale's North Atlantic Operations and Asian Refineries. "We look forward to the grand opening and celebrating this centre for the arts with everyone in our community for generations to come."
Place des Arts will be Northern Ontario's first multidisciplinary arts and culture centre. It will be home to eight cultural organizations and is expected to host 850 events in its first year and generate 50,000 admissions. Phase 1 of construction began on October 29th and Phase 2 will follow in 2019. The estimated economic effects of construction are $18.7 million, with the creation of 180 jobs.
"This support from Vale reflects a strong desire to contribute to what is certain to be a successful project," said Daniel Gingras, co-chair of the Place des Arts capital fundraising campaign. "Vale has always been recognized for its leadership in our community. This is another great example. We are grateful to Vale and its executives for this generous support, which brings us closer to our goal."
Vale and Place des Arts encourage other mining companies and suppliers to the industry to also support the Place des Arts capital fundraising campaign in order that the contribution of this major sector to the economic development of the region be fully recognized.
With this contribution, the total value of the major donations announced in the Share Our Sense of Place fundraising campaign is now more than $1,275,000. With 100 % of public funding confirmed, the Place des Arts capital fundraising campaign is close to 92 % of its $30 million target.
Place des Arts is supported by funding providers such as Canadian Heritage, FedNor, the Northern Ontario Heritage Fund Corporation, the Ministry of Tourism, Culture and Sport, and the City of Greater Sudbury.